Hansjörg Eichler Scientific Research Fund
Applications for an Award from the Hansjörg Eichler Research Fund are welcomed from all current financial members of the Australasian Systematic Botany Society. The project must contribute to Australian systematic botany (including cryptogams); must be carried out within Australasia; and the applicant must be attached to an Australasian research institute (in the broadest sense)
The maximum grant awarded will be $5000. Large capital items will not be considered.
Students, recent graduates, newly-established botanists and non-salaried researchers will be given preference.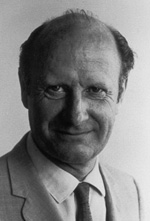 Hansjörg Eichler (1916-1992)
Marlies Eichler Postdoctoral Fellowship
The ASBS Council is pleased to be able to offer a postdoctoral funding scheme, the Marlies Eichler Postdoctoral Fellowship. The fellowship is named in honour of Marlies Eichler, a life member of the Society, whose extraordinary generosity over many years made this funding possible.
These grants aim to support research in systematic botany and the career development of recent PhD graduates, by providing top-up funds to researchers already successful in attracting other postdoctoral support. Such top-ups are considered useful because many postdoctoral schemes are not fully funded, in terms of either salary or research costs, and this can limit the research and career opportunities of early career systematists. Providing strategic support to already successful early career systematists aims to facilitate quality research in systematics and also help recent graduates to capitalise on postdoctoral opportunities and improve their competitiveness for more permanent positions.

Marlies Eichler (1920–2011)